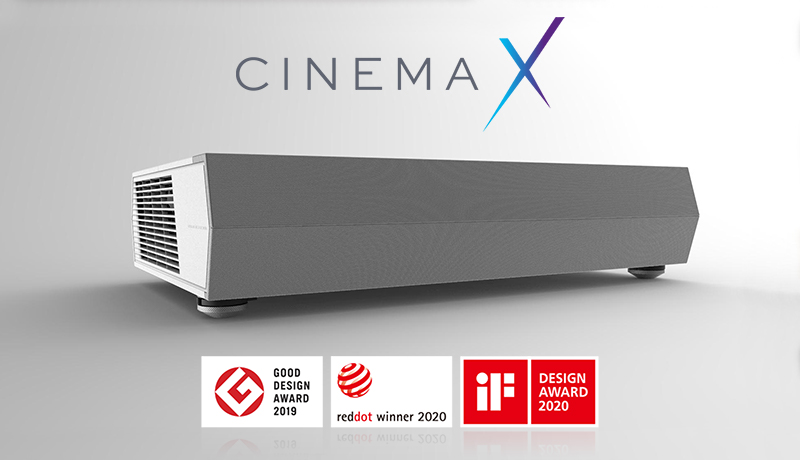 Award Winning - CinemaX P2 From Optoma
Ultra short throw laser projector – 4K UHD resolution, HDR compatible
Amazing colour – extensive DCI-P3 coverage, 3000 ANSI lumens

Integrated soundbar with Dolby Digital 2.0

Smart features – Apps, voice control, IFTTT
With over eight million pixels, Ultra HD 4K resolution brings four times more detail than Full HD, to deliver sharper, life-like images and richer colours – allowing you to sit closer to the screen and enjoy a more immersive experience.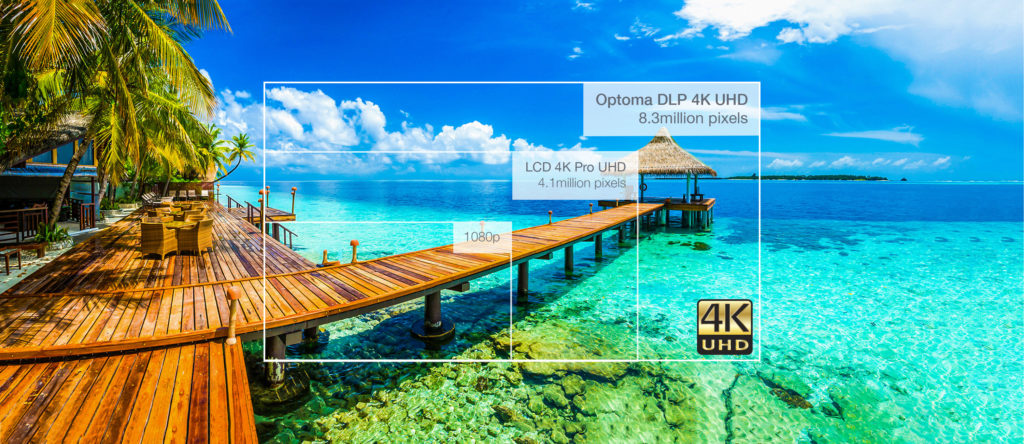 Capable of receiving and displaying both HDR10 and Hybrid Log Gamma (HLG) HDR content. This Optoma projector allows you to see far more detail and texture. Objects look more solid and lifelike and the extra detail creates a greater sense of depth.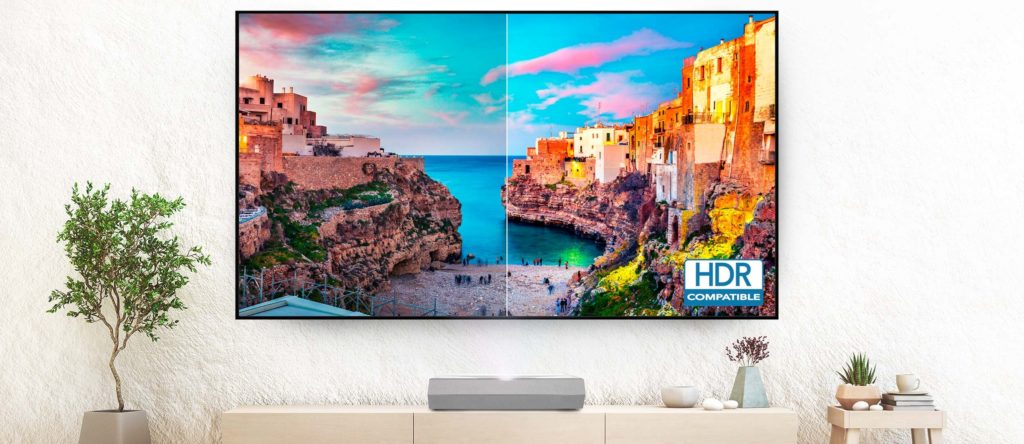 Watch your movies, TV shows and play games with stunning colours in any environment. Optoma projectors provide reliable performance suitable for any content and environment. Our home projectors are capable of reproducing the Rec.709 colour gamut, the international HDTV standard to guarantee accurate reproduction of cinematic colour exactly as the director intended. Or more saturated colours for a punchy looking image, great for gaming and animated movies.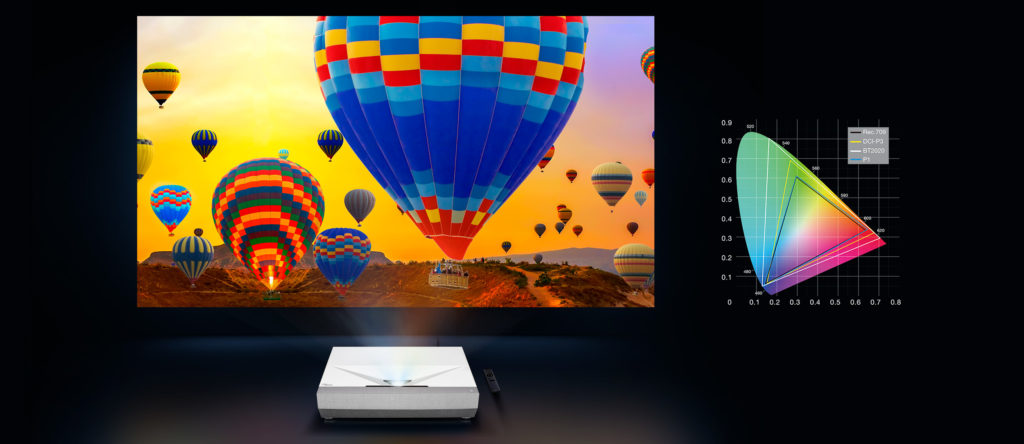 Optoma laser projectors use high-quality lasers to create the projected image. In many situations the perceived brightness from laser illumination projectors can be twice that of an equivalent lamp-based model. They also deliver increased efficiency to maintain consistent brightness, superior colour performance, instant on/off and an extraordinary life span of up to 30,000 hours.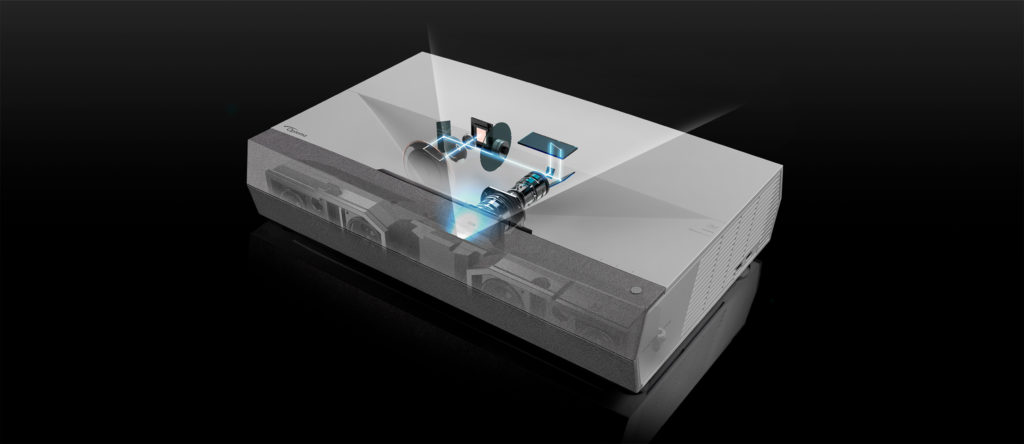 Using sophisticated frame-interpolation technology, advanced motion control processing eliminates motion blurring or image judder, even in high-speed action sequences.
Optoma projectors can display true 3D content from almost any 3D source, including 3D Blu-ray players, 3D broadcasting and the latest generation games consoles.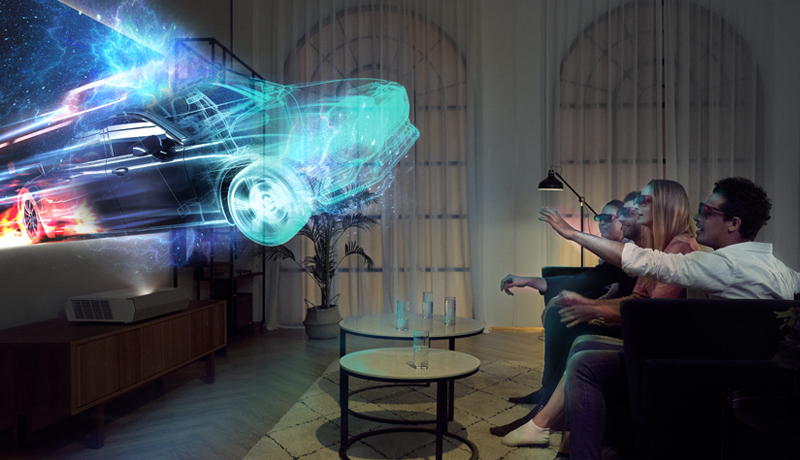 Superior audio performance
Enjoy deeper, fuller and superior bass performance from the integrated soundbar with Dolby Digital 2.0. Designed using a vented enclosure and precision-engineered ports this compact projector can extend low-pitch and low-frequency soundwaves and can even deliver 360 degree, omnidirectional sound. Suitable for any home environment and perfect for movies.
Wirelessly display and share content on a big screen using the TapCast app.
Easily mirror your android, iOS, Windows, MacOS and Chrome device at the touch of a button. Or wirelessly cast documents, images or videos stored on your mobile device or laptop. The app also acts as a wireless mouse and keyboard allowing you to control your projector. And as an added bonus it also allows you to side load APKs to your projector*.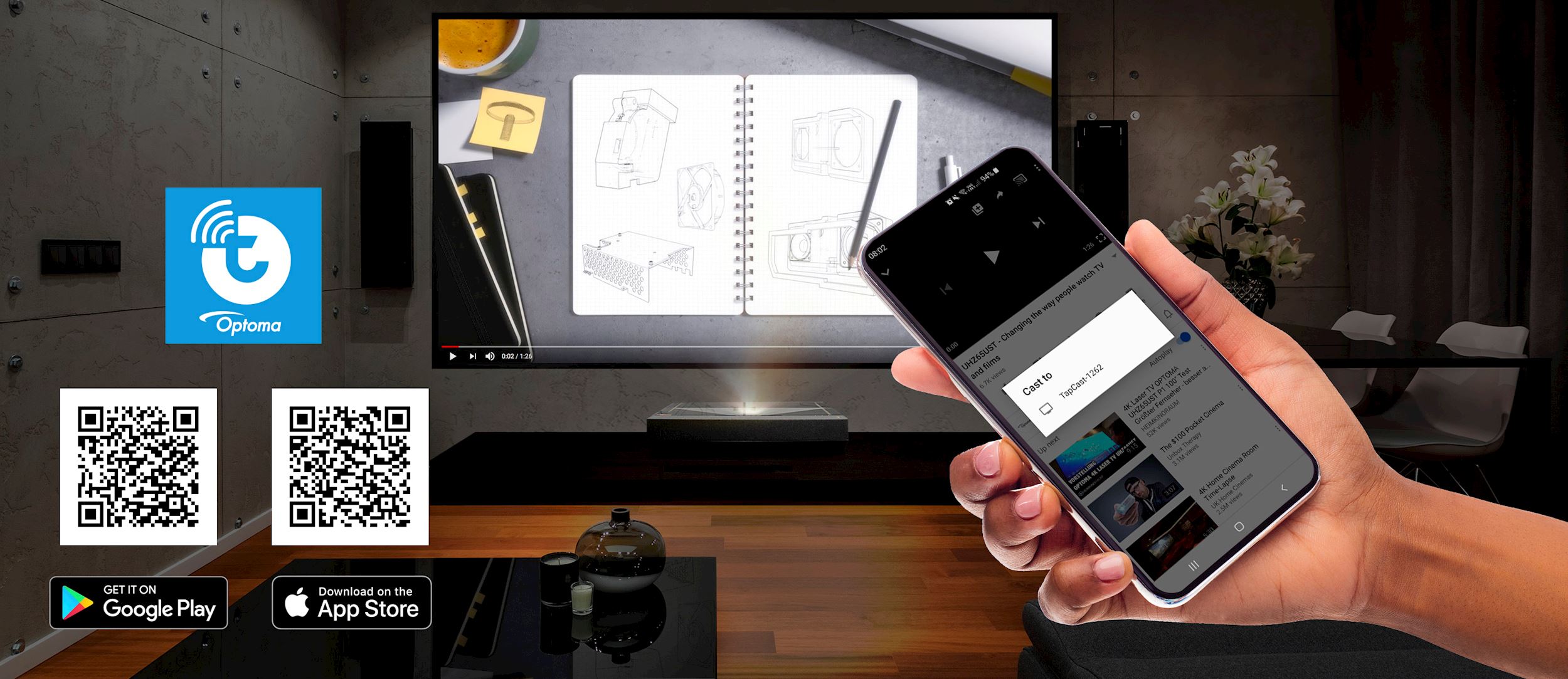 Big screen experience in any living space
Transform the everyday with a truly immersive home entertainment set-up.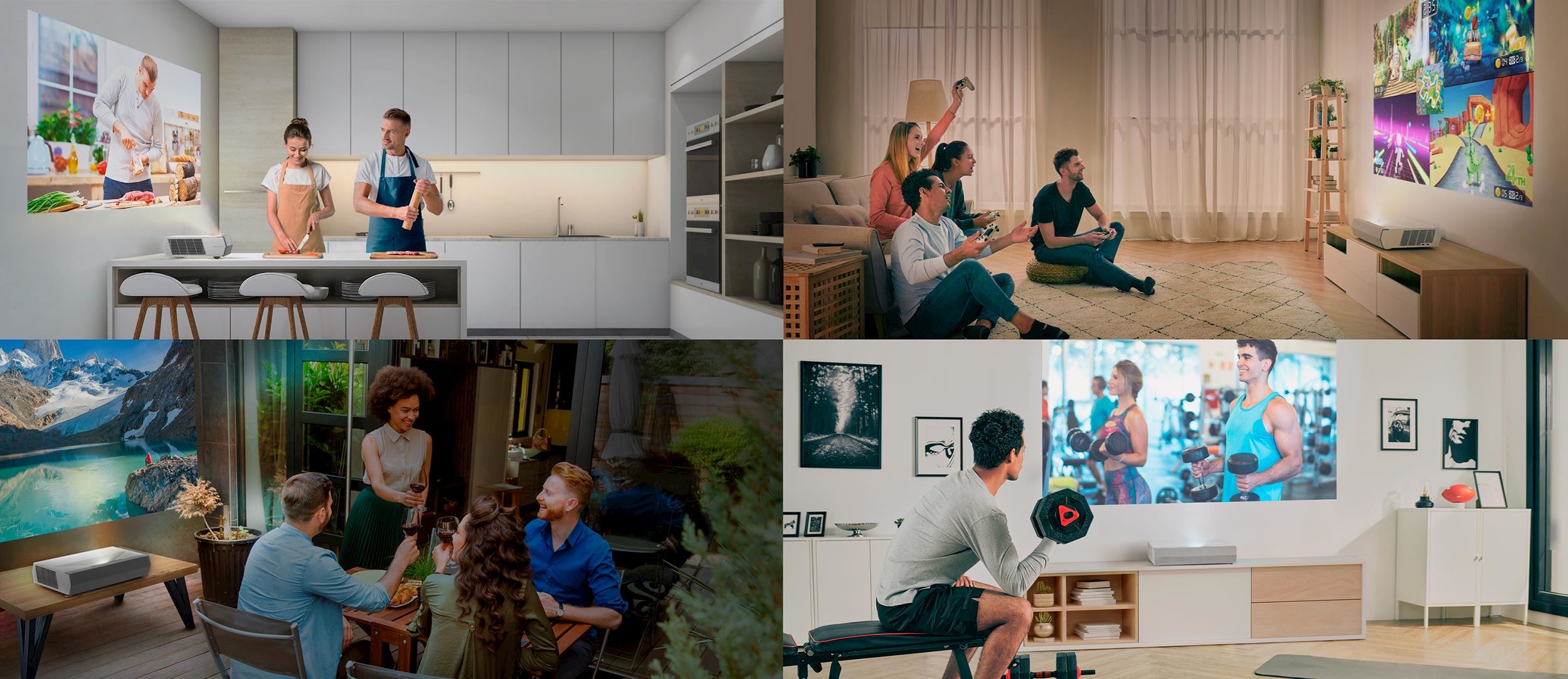 Stunning white finish, complemented with grey and silver detailing.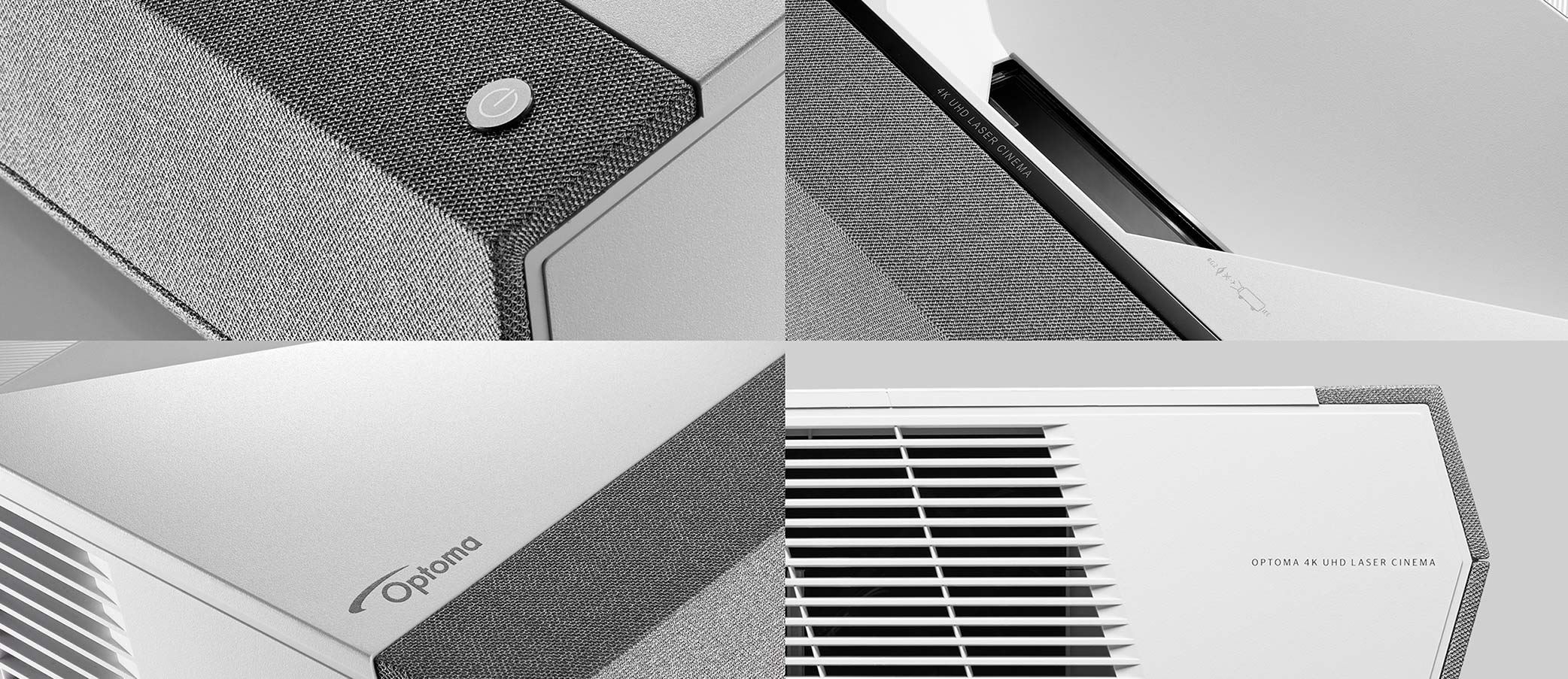 Control your projector with your voice using Alexa or Google Assistant. You can ask Alexa or Google to turn the projector on or off, adjust volume, switch inputs and more. Voice control is a natural way to interact with technology in the home and now owners of Amazon Echo or Google Home devices can simply control the projector with their voice.
Note: Alexa smart home control is only currently available in the UK and Germany. Google Assistant currently only works in the UK.
Access compatible apps such as YouTube and Spotify using the built-in App store – Marketplace. Perfect for streaming movies, TV shows and clips.
Note: Optoma projectors run on a customised version of android. Google Play Services not supported. Not all third-party apps will be compatible and can vary in quality and resolution.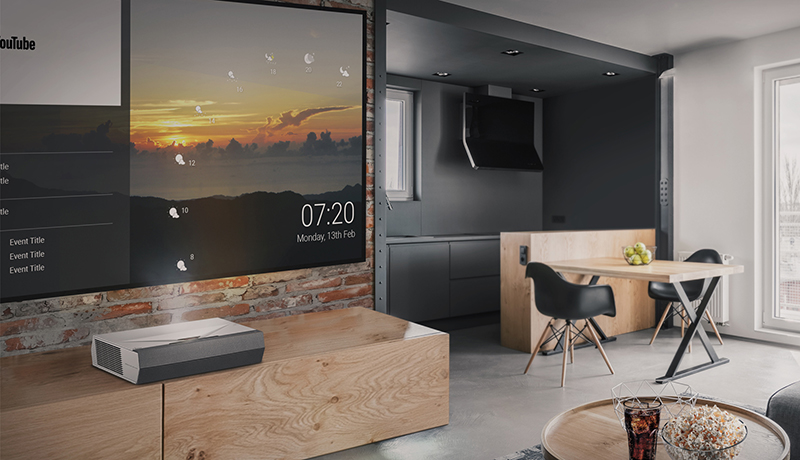 Adjust the keystone in both the vertical and horizontal plane. You can individually warp each corner of the image to create a perfectly square image. Ideal for uneven walls or where projector placement is awkward and needs to be installed at an angle.
Take the hassle out of adjusting your ultra short throw projector* and automatically align the projected image using the camera on your mobile device with the SmartFIT app.
Using your smart devices camera the app takes an photo of the projected image and adjusts it accordingly within seconds.
*Compatible with the CinemaX P2, CinemaX Pro and UHZ65UST
The SmartFIT app is compatible with android and iOS devices. See the SmartFIT guide for more info.
Create a personalised digital wall of tailored information. Using the Optoma connect app you can schedule the projector to display the weather, videos and social media feeds. You can even schedule it to turn on at set times or wake you up naturally to a calming and relaxing playlist.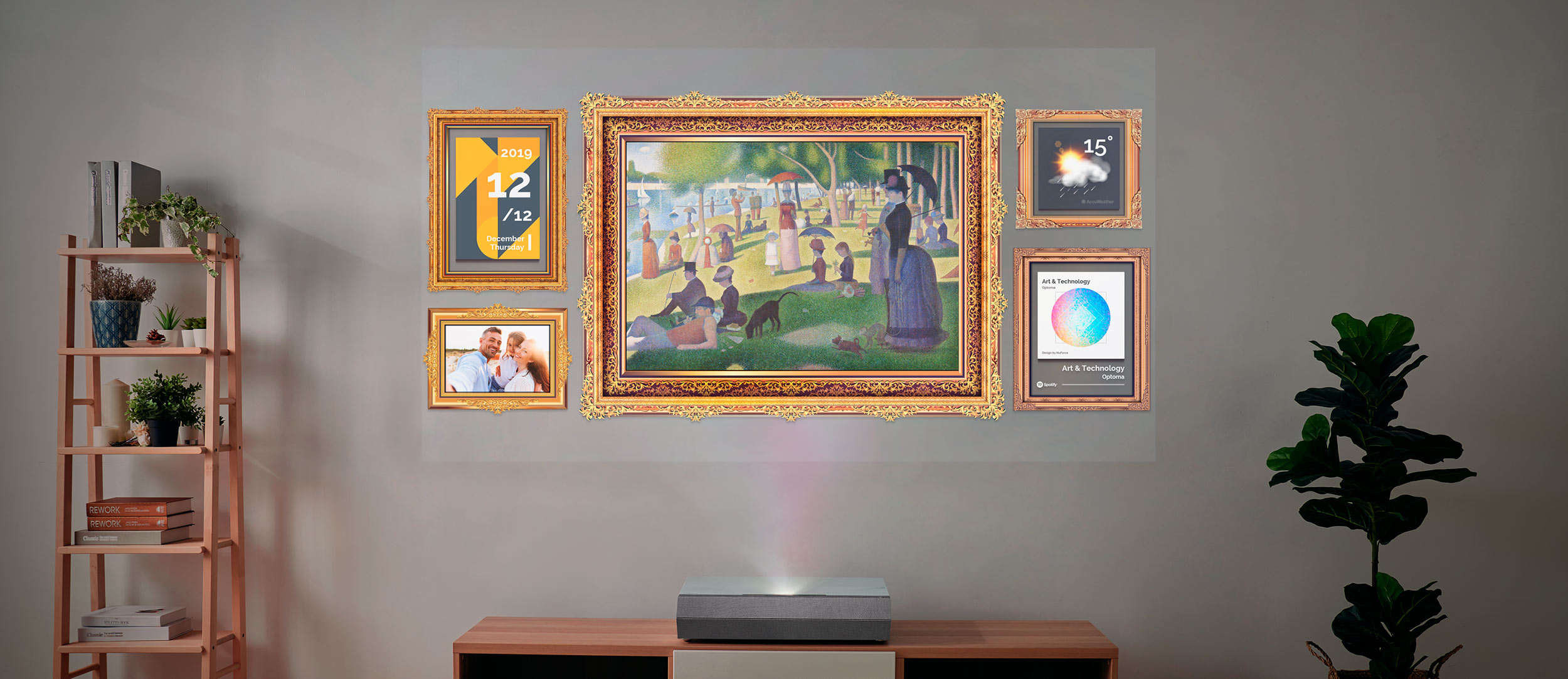 FRAMED - bring digital art into the everyday
Optoma has partnered with FRAMED to offer a new digital art experience. The CinemaX Exhibition brings together a specially curated collection of digital artworks by leading digital artists with Optoma's state-of-the-art 4K laser projection technology. The exhibition is made possible by the FRAMED App embedded in Optoma CinemaX projectors.
The exhibition features 12 radically different creations, launched individually over the curation period, each a showcase of the artists' unique artistic license and Optoma's cutting edge display capabilities.
Read more about FRAMED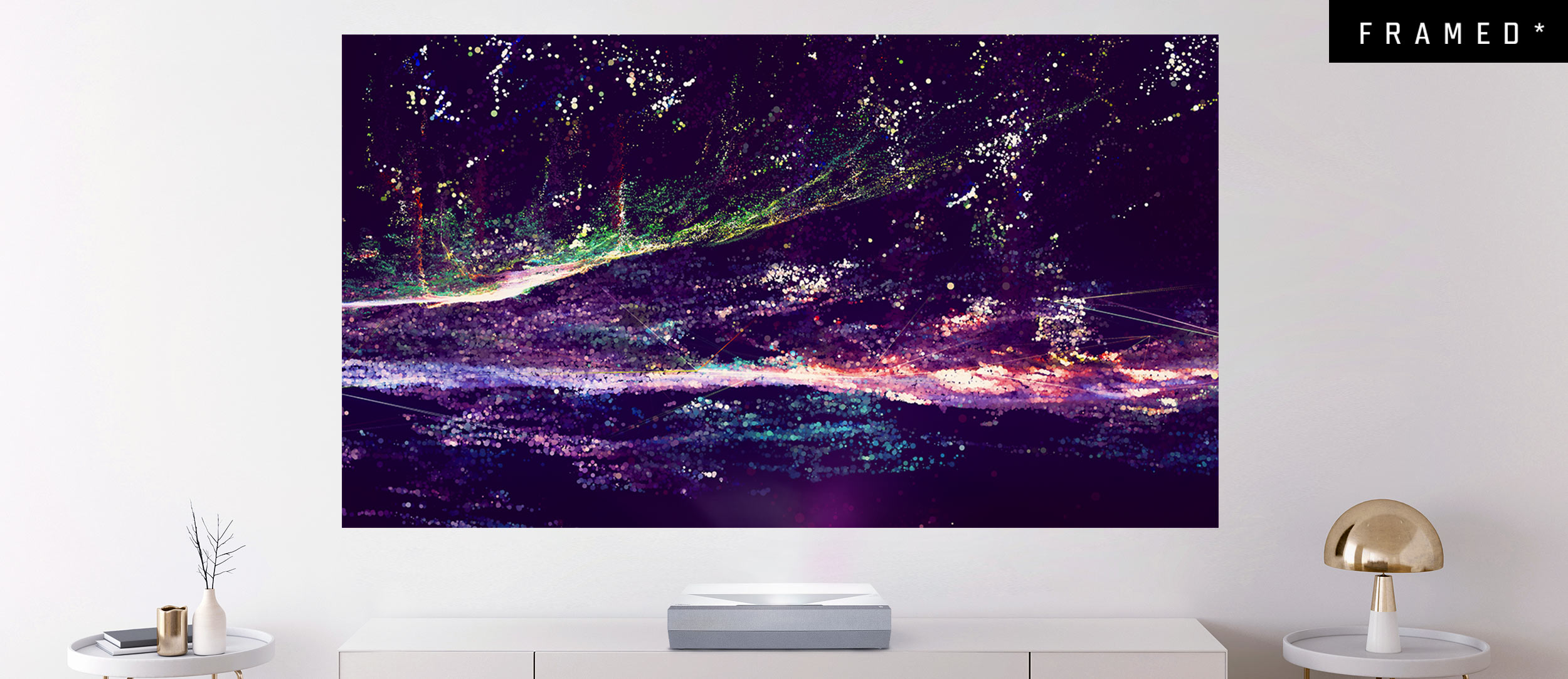 FRAMED - 12 unique artworks
FRAMED highlights 10 emerging talents from across the globe featuring their inspiring artworks in the Optoma CinemaX Exhibition. Welcome to the state-of-the-art living gallery of creative expressions.
Please connect your CinemaX P2 to the wireless network. The FRAMED online exhibition is available only when the projector is connected to Wi-Fi. Exhibition date is from 1st September 2020 – 1st March 2021. The FRAMED artworks will no longer be available on CinemaX projectors after the exhibition period ends.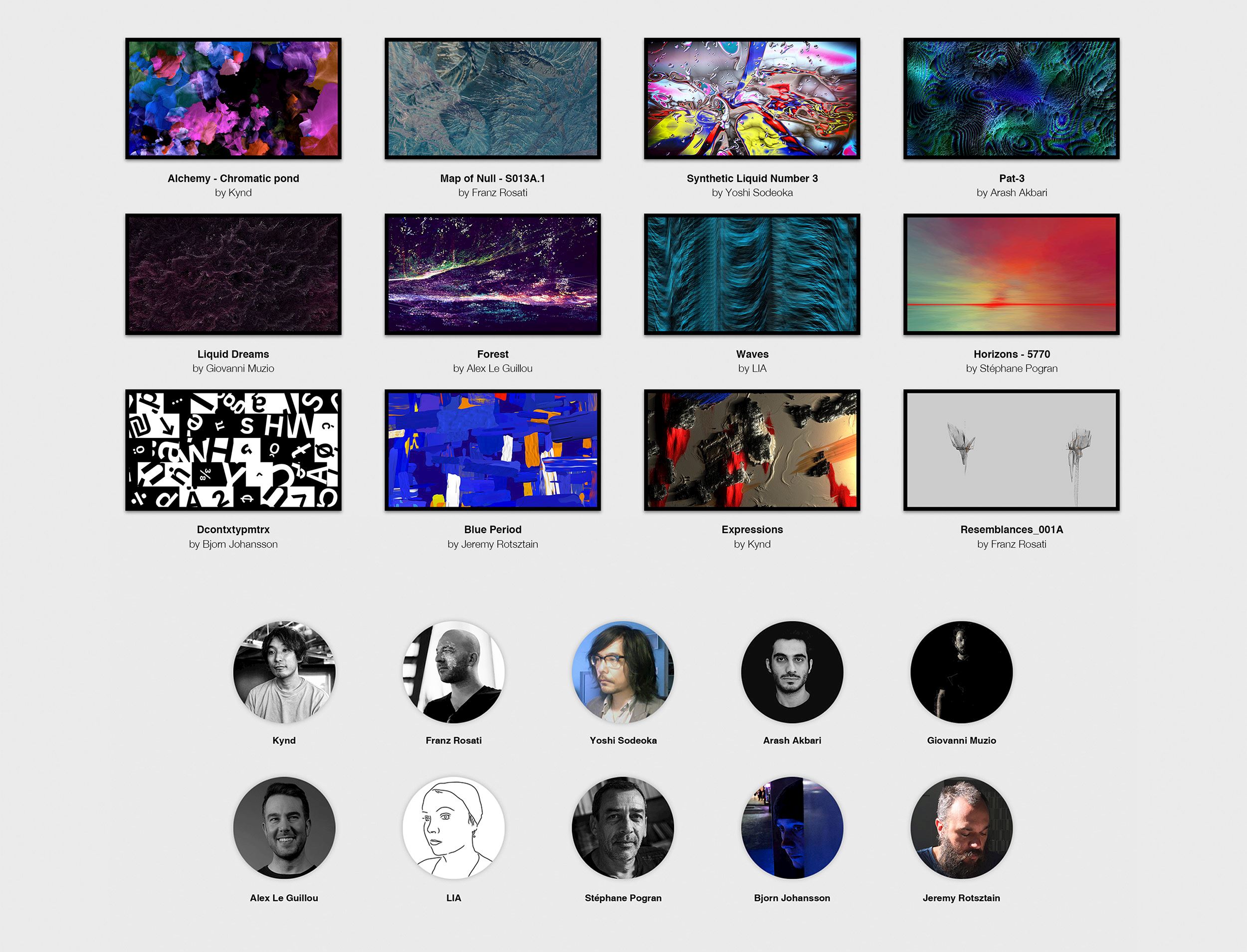 Compare UST Projectors Available from Us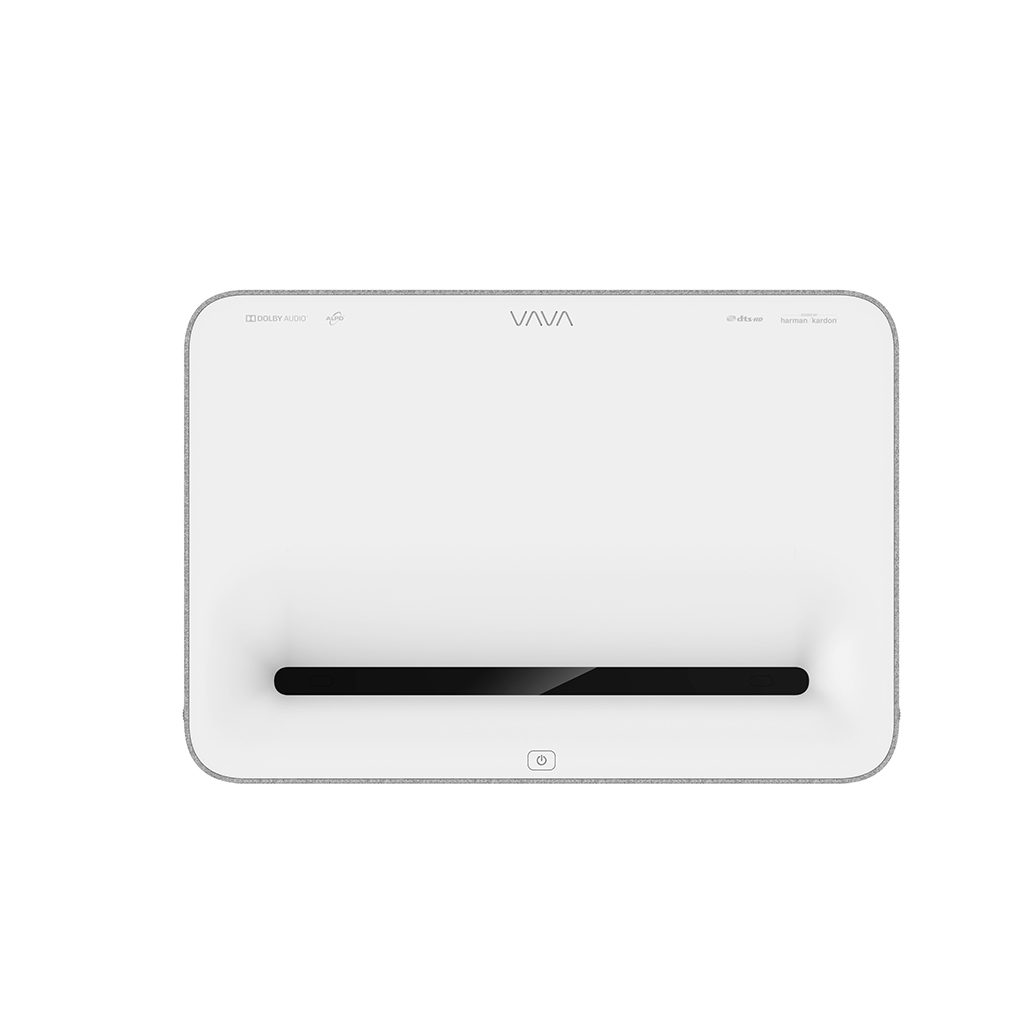 Brightness: 1800 ANSI Lumens
Throw Ratio: 0.233:1 (100″@40cm)
Keystone Adjustment: 8 Points
HDR/HLG Support: Yes
Colour Gamut: 113% Rec.709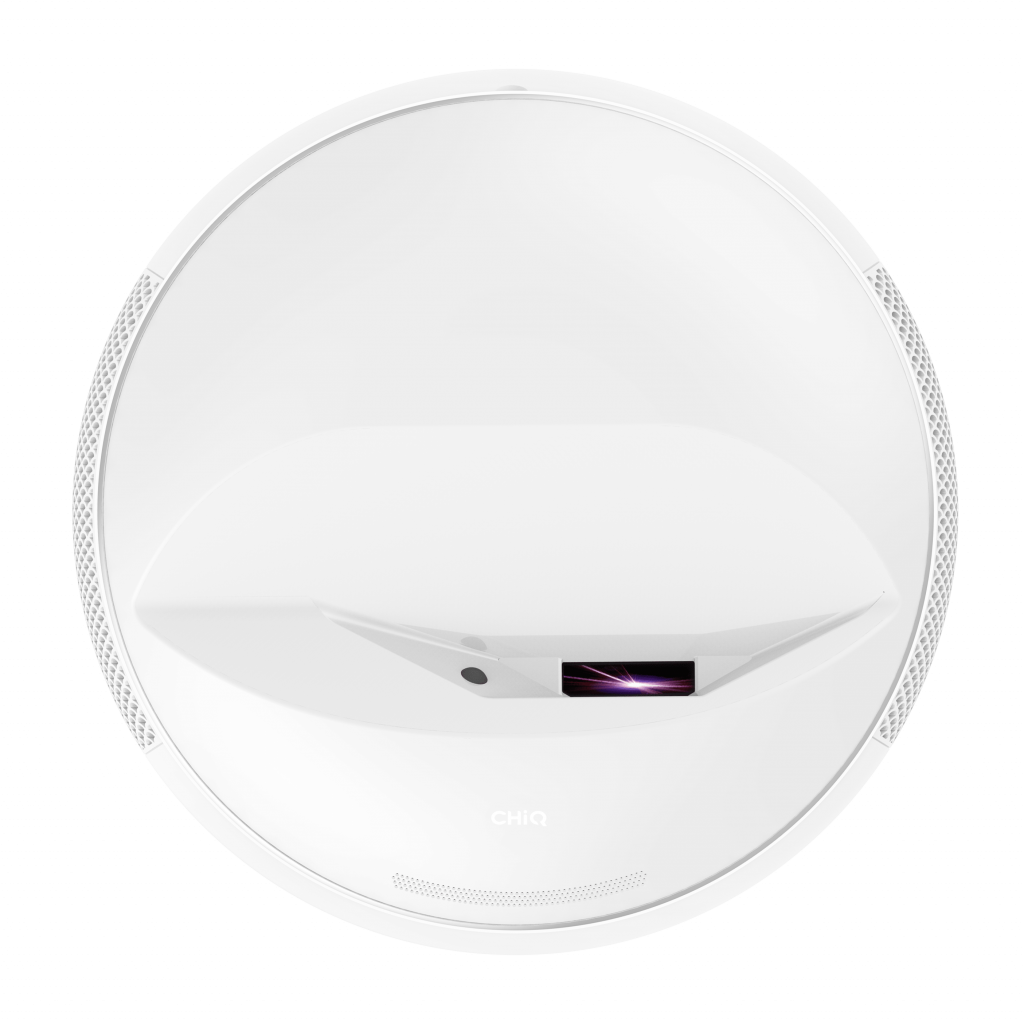 Brightness: 2500 ANSI Lumens
Throw Ratio: 0.21:1 (100″@19.5cm)
Keystone Adjustment: None
HDR/HLG Support: Yes
Colour Gamut: 130% BT. 709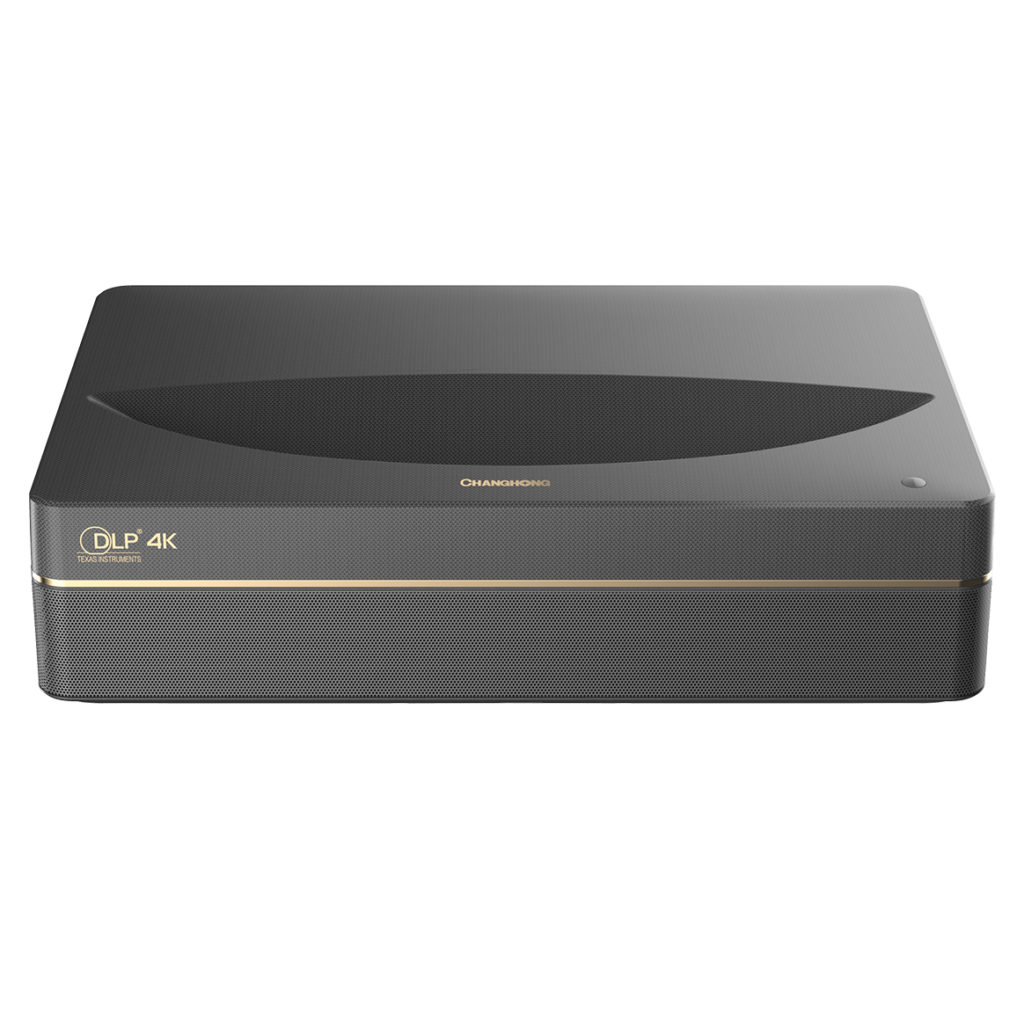 Brightness: 2500 ANSI Lumens
Throw Ratio: 0.21:1 (100″@19.5cm)
Keystone Adjustment: 8 Points
HDR/HLG Support: Yes
Colour Gamut: 130% BT. 709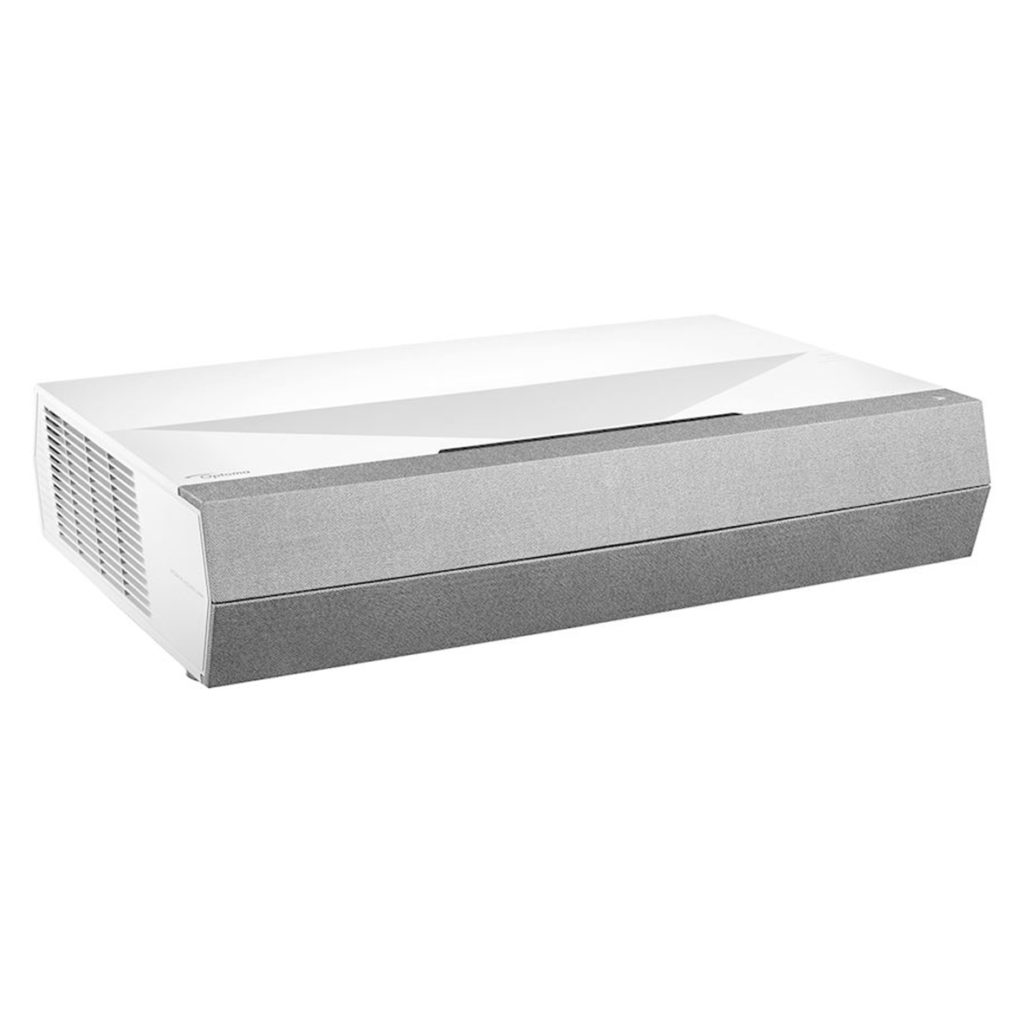 Brightness: 3000 Lumens
Throw Ratio: 0.25:1 (100″@55.4cm)
Keystone Adjustment: 4 Points
HDR/HLG Support: Yes
Colour Gamut: 120% BT. 709