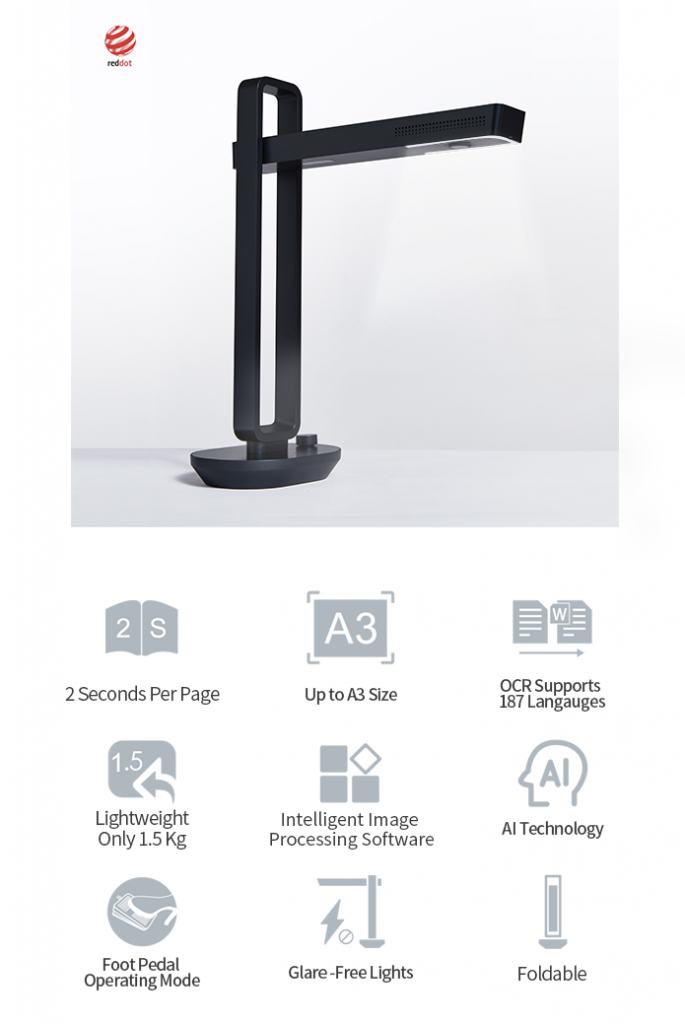 Versatile, foldable and powerful. 
Czur Aura scanner comes in a compact and versatile design. The over-head scanner arms can be folded back to the scanner's body for easy storage and transport. 
The scanner is capable of scanning upto A3 size dual book pages in 2s/page. It offers multi-ways of triggering the scan including the hand button, foot pedal , and the software key. 
When the scan is completed, you can export the scanned images into JEPG/PDF/Word/Text files as preferred. The built-in OCR engine supports over 187 languages which helps to totally digitize the scanned documents.
With Czur Aura scanner, you can easliy scan books/bounded documents without unbinding/cut the book.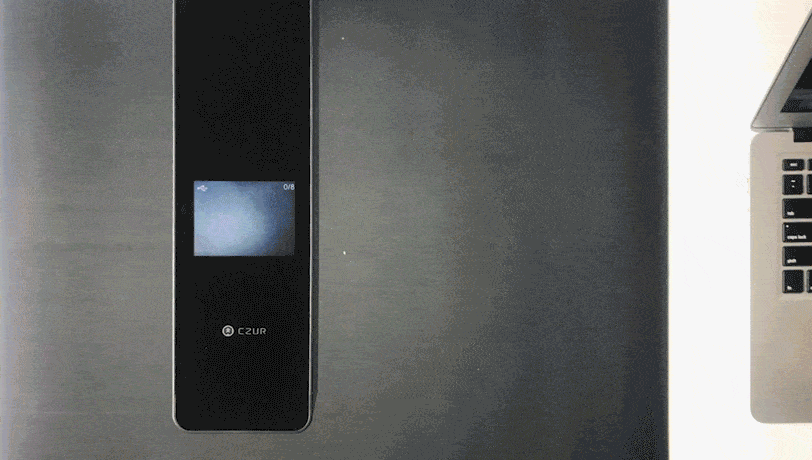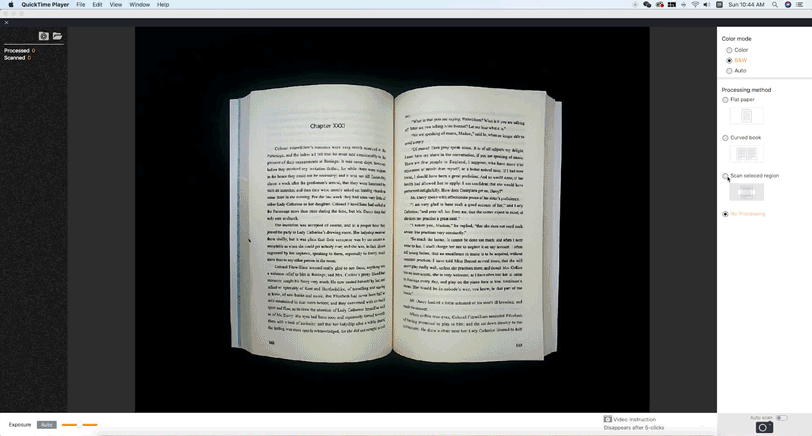 Czur Aura is fast. Scan  dual-page book page only take 2 seconds. 
Scan a book of 100 pages with Aura can be done in 2-3 minutes!
When the scanning is completed, you can export the scanned documents into JEPG/PDF/Word/Text file with just a click.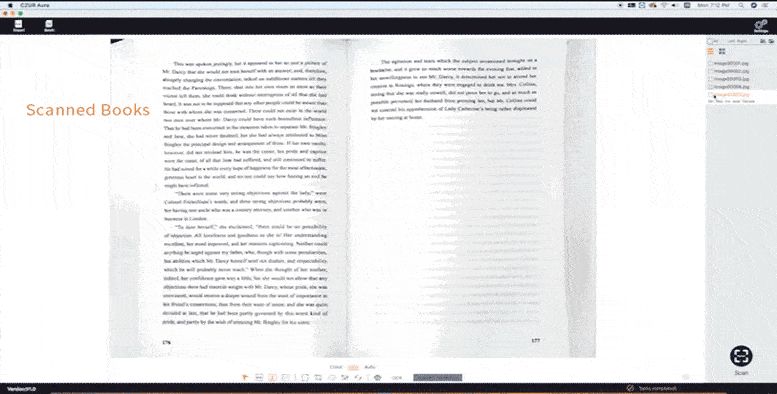 As an overhead camera based scanner, Aura is much more flexible on media handling. 
It can help to scan books, bounded documents, single sheet files, business card, drawings, receipts or even 3D objects. Basically, it is a camera, anything that fit on the A3 size background pad can be scanned.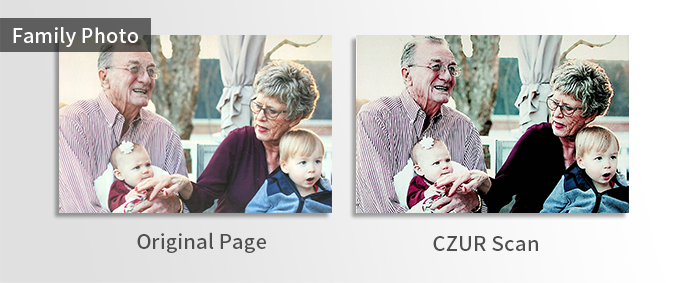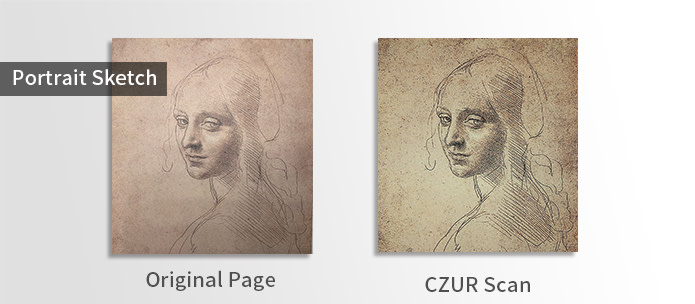 The First Toy You Bought for Your Kids: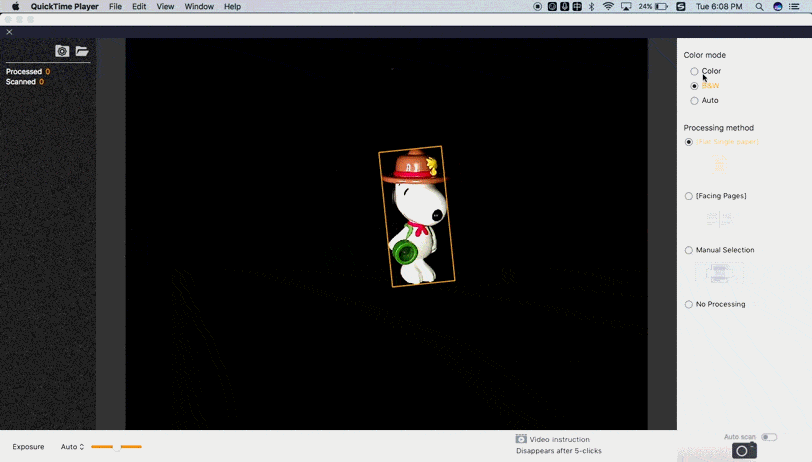 Advanced Auto Image Processing
Aura's intelligent image processing algorithm is capable of handling the image processing automatically. With one click, you will get the scan done and the scanned images will be automatically processed.
The image will be properly trimmed, cropped, dual book pages will be split into left and right pages, book curves will be flattened, your fingers on the image will be removed, and all those processing are automatic, you do not need to do anything other than waiting for the final processed image.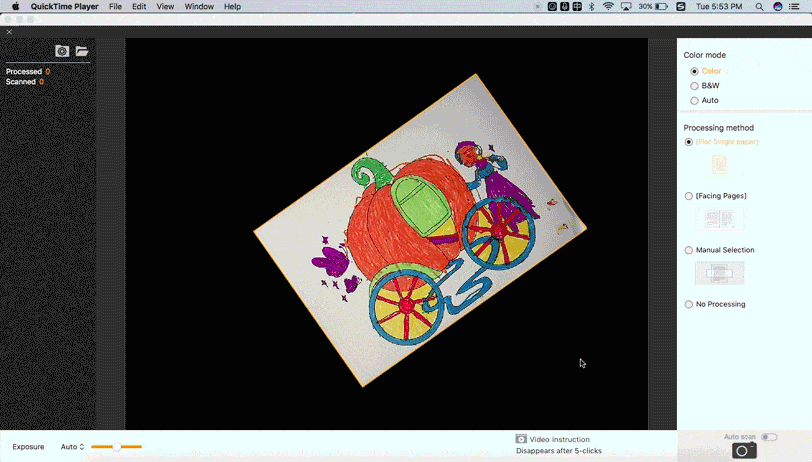 Manual Selection: 
Single select out of multiple items on one scan.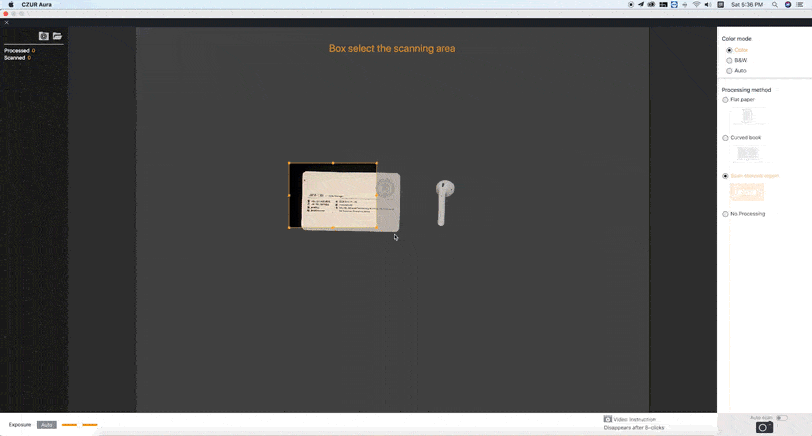 Aura can be used as a smart desktop lamp while not using as a scanner.
The LED light from Aura offers glare-free, none-flickering lighting. You have four colour temperature settings to choose from and the controls can be accessed from your mobile phone/the physical button.
There are two models in Czur Aura series, the Aura Pro and Aura Pro X. 
Both models are exactly the same in terms of hardware design and software features. However, Aura Pro X offer a built-in battery which allow users to scan without connecting the scanner to the mains power supply. 
If scan on the go is a feature that you want, just go for the Aura Pro X.