Easily Recycle your old electricals
DH General Trading is able to offer convenient in-store service for customers to return their old electrical or electronic items for further disposal by a professional organisation.
Anything with a plug, battery, or cable can be recycled or reused!
If you're buying a new electrical or electronic item from us we'll recycle the one you're replacing for free. Simply bring the old electrical item in within 28 days back to us, show us the receipt for its replacement*, and we'll do the rest.
Alternatively, recycle your electrical and electronic devices at your local recycling centre. To find your nearest centre, visit the Recycle Your Electricals website and type in your postcode.
Together we can stop precious resources from being lost forever, save lives and help protect the planet.
*Like-for-like items accepted only. A like-for-like item should be similarly sized and from a similar product category as the purchased item. Proof of purchased item required (eg. Invoice/receipt). Please note that we reserve the right to refuse an item that's too heavy to be picked up by one person or for health and hygiene reasons.
Why Recycle?
Recycling and reusing unwanted electrical or electronics can help save the planet, boost the economy and improve lives. Not only that, electrical and electronic equipment (EEE) contains materials, parts and substances which can be dangerous to the environment and harmful to human health if not disposed of correctly.
Electrical and electronic equipment is now the fastest growing waste stream in the UK and across the world.
Discover the impact of reusing and recycling your electricals by visiting the Recycle Your Electricals campaign's website.
We're proud to be working with the national Recycle Your Electricals campaign and to support your local authority in providing local recycling facilities for electrical equipment.
To remind you that old electrical equipment can be recycled, it is now marked with the crossed-out wheeled bin symbol. Please do not throw any electrical equipment (including those marked with this symbol) in your bin.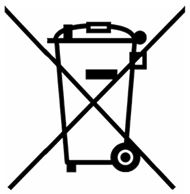 What is WEEE?
The Waste Electrical or Electronic Equipment (WEEE) Directive requires countries to maximise separate collection and environmentally friendly processing of these items. Waste Electrical and Electronic Equipment (WEEE) is regulated by the UK Government. Find out more here.
How are we helping? 
In the UK, distributors including retailers must provide a system that allows all customers buying new electrical equipment the opportunity to recycle their old items free of charge. As a retailer that provides electrical or electronic equipment on a regular basis to end users we are obliged under The Waste Electrical and Electronic Equipment Regulations Act to provide all of our customers with a safe and accessible way in which to dispose of their electrical equipment. 
To find more information on WEEE recycling and to locate your nearest recycling centre please visit the Recycle Your Electricals website.